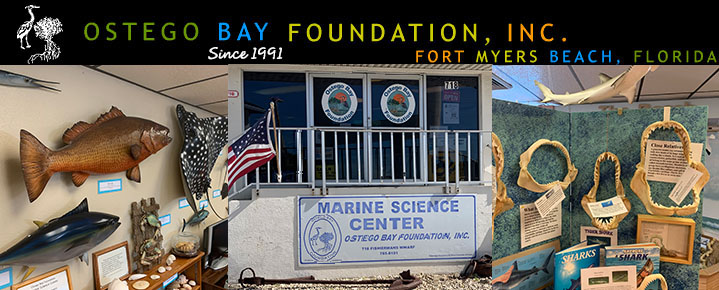 Marine Science Center Events
Annual Tea by the Sea - Only $25 per person which includes lunch and Fashion Show, Chinese Auction and 50/50 raffle. Limited Seating at 44 people, make reservations early. Call 239-765-8101 to reserve your seating.
The Tea and Fashion Show has been a popular event for over 12 years! Proceeds benefit the Ostego Bay Foundation, Inc. Founded in 1991, the Ostego Bay Foundation Marine Science Center is a self funded 501(c)(3) nonprofit organization. The mission of the Ostego Bay Foundation, Inc. is to promote the understanding, preservation and enhancement of our unique marine environment through education, research and community involvement. The Foundation provides interactive educational experiences to encourage stewardship of our natural resources.
Call the Marine Science Center at 239-765-8101 for further information.
DIRECTIONS TO THE OSTEGO BAY MARINE SCIENCE CENTER
Ostego Bay Foundation, Inc. - A member supported organization
718 Fisherman's Wharf - Fort Myers Beach, Florida 33931 - 239-765-8101
info@ostegobay.org