Guided Working Waterfront Tour - 04/06/22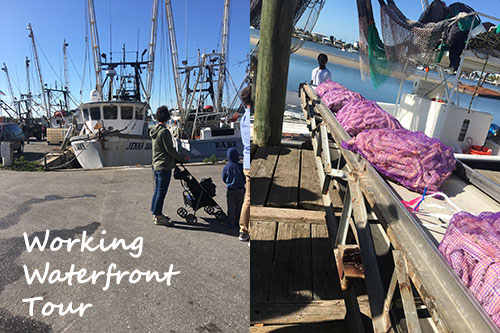 They discovered it by accident in the dark of the night, and by the time full moon shone, the Pink Gold Rush was on. Florida shrimpers first netted the nocturnal pink shrimp in 1949, bringing a frenzy of fisherman to Fort Myers Beach, ready to pan sweet, delicious "pink gold." Hundreds of boats once offloaded at the local shrimp docks. Today, fewer than 40 come to port as development, economics, and the environment take their toll on a once vibrant industry and a way of life, Through seven decades, shrimpers have struggled against adversity.
Learn firsthand about the Fort Myers Beach Shrimping Industry and the San Carlos Island Working Waterfront. The Ostego Bay Marine Science Centers offers a guided tour of the Fort Myers Beach Working Waterfront Commercial Shrimp Fishing Industry. The Working Waterfront is a community of servicing organizations which supports the local commercial fishing industry. You'll learn about Florida's Pink Shrimp and see first hand what it takes to support this this multi million dollar industry, from unloading to retail, welding shops to the net house. This is our effort to preserve the cultural heritage of this unique and historic maritime community and you get to learn all about our local seafood. The cost for the Tour is only $20.00 per adult and $10.00 for children over 6 years of age.
Click HERE now to register.